An Isle of Thanet Directory 1849

Postage to a UK address is free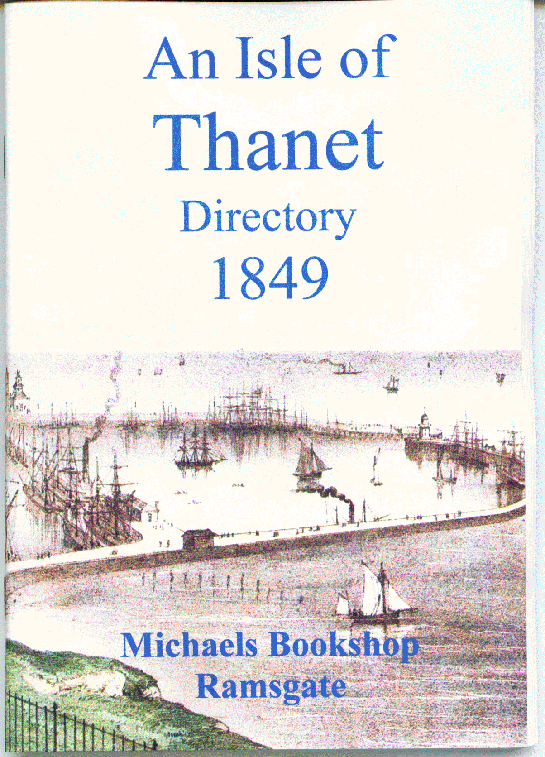 An Isle of Thanet Directory 1849
104 page A5 booklet containing the names and addresses of the principle inhabitants in the towns and some advertisements.
ISBN 9781905477258 £5.99
The directories from this period are becoming increasingly hard to find in their original form. Some are now becoming available as electronic files that are useful if you can get on with that sort of thing.
What I have done here is to make the pages from the directory the same in appearance as my original, although slightly larger. I have also reproduced the advertisements from the original. I hope that you feel that I have managed to keep some of the atmosphere of the mid 1800s.
There is a problem though with the directories of this period house numbering started about this time and was refined on a number of occasions. This means that the house numbers in this directory are not necessarily the same as the ones used today. It also means that in many cases there is no number given just the name of the street.
It is the case with history that the further you go back in time the more difficult it becomes to find the information you want. This means that using a directory like this is like doing a puzzle.
I have found that if you use this directory in conjunction with the directories that we publish for 1900 as most of the public houses and some of the other businesses remain the same it is possible to work out where you are in a street in some cases.
Includes Ramsgate, St. Lawrence, Margate,
Broadstairs and St. Peter's Directories for 1849.
Example Ramsgate: - Elgar Richard, plumber,painter, and glazier, 40 High Street.
Witherden John S., bell hanger, Mount Sion Place.
Margate: - Sayre Edward, saddle and harness maker, 115 High Street.
Field Alfred George, surgeon, Royal Sea Bathing Infirmary, Westbrook.
Broadstairs: - Foat Samuel, boot and shoe maker, Albion Street.
Brown William, bathing machine proprietor, Harbour.
Also gives description of Public Buildings (Post Office, Churches and Schools),
with opening times, Post Master, Headmaster etc.