1736 The History and Antiquities as well Ecclesiastical as Civil of the Isle of Tenet, in Kent The Second Edition, With Additions.

I have started here with the first book to be published about The Isle of Thanet. Click on the links, on the left to look at the others.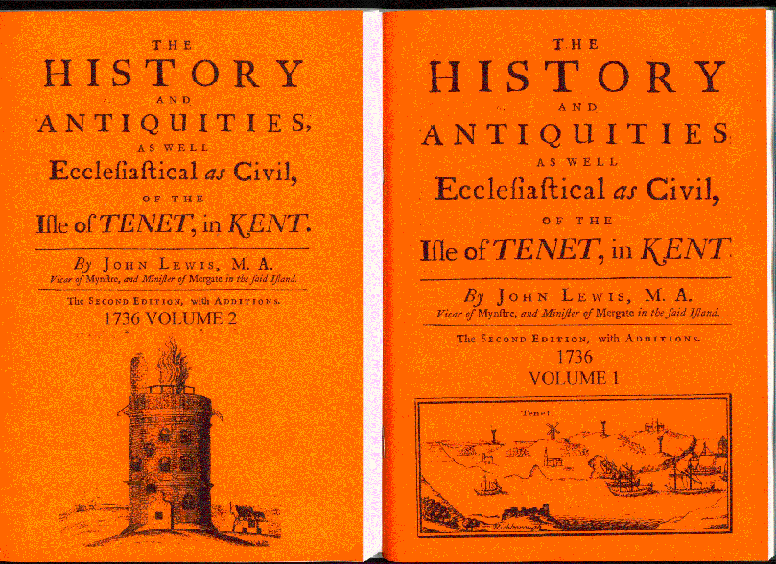 The History and Antiquities as well Ecclesiastical as Civil of the Isle of Tenet, in Kent The Second Edition, With Additions. 1736
Volume 1 ISBN* 9781905477142 £5.99
Volume 2 ISBN* 9781905477159 £5.99
Volume 3 ISBN* 9781905477227 £5.99
All three volumes sold separately.
The book is complete in two volumes the third volume being "A Collection of Papers and Records Referred to in the History and Antiquities of Tenet"
click below to look inside the book this is still experimental
A WORD OF WARNING ABOUT VOLUME 3
As Lewis mostly refers to documents published before 1650 this means that the greater part of volume 3 is in Latin. As a small boy I asked an ancient priest (over 30) why exorcisms, something that greatly interested me at the time, were performed in Latin. He replied that this was because it was certain that it was a language that the devil could understand. It is one thing to be told that legend says there are no snakes in Thanet because of the nature of the soil. Another altogether to read: Thanatos nullo serpitur angue, et angues necat.
This book was the first history of the Isle of Thanet parts of it have been used in almost every subsequent history of the area. First published in 1723 in an edition of according to the verso of the title page of not more than 150 copies. Here I have reprinted the second edition as it is greatly expanded having an extra 85 pages. The second edition appeared in 1736 apparently in two different sizes of paper. There was a proposal made by Mr. Boys, solicitor of Margate to do a new edition in about 1810 but nothing appears to have come of it.
That makes this printing of 2005 the third edition. It's a considerable time to have to wait 269 years between editions.
It is the grail of Thanet history books, the maps are so attractive that it is difficult to find a copy with them all still present.This is my fourteenth publication and I find my confidence has increased to the point where I can offer it in three inexpensive volumes without excuse. I have found that the previous reprints of older books on Thanet (an antiquarian book strictly speaking is one published before 1810) have had a market among those who have original copies, its always handy to also have a copy that you can make notes on, leave on the train, spill coffee red wine etc. on.
I found reading Lewis a delight, he speaks across a gap in time of 300 years still interesting and amusing the reader with an interest in local history. We are, on this small island extremely lucky to have had an antiquary of his calibre.
Criticism in the eighteenth centenary was even more robust than in the nineteenth
Of this book The Antiquities of Thanet, Thomas Alien, Vicar of Murston, sometime Fellow of University College, writes to his friend Thomas Heame, the antiquary, of Edmund Hall that "it has only an indifferent character and is a poor performance." Heame refers to "that vile, silly Pimp, that vile wretch, Lewis the Pyrate, the same poor writer that drew up and published Wicliffs Life. He is a Wiclivist, Calvinist, Puritan & Republican, and hath wrote and published divers other things of no manner of Esteem among honest learned men. Lewis has the character of a rogue and a villain."
It was at this time quite easy for a minister to live off the income of his parish while using curates, deacon churchwardens, etc to do the work. The standards of the time were very different to today. To quote the article by Canon Shirley who studied the records of the Canterbury diocese. Patten of Whitstable kept a mistress and did not pay his debts; Bourn of Ash was "allied to the sons of Eli" ; Roberts of Queenborough, ale-house sot and debtor, "so impudent as nothing is like him"; Bate of Chilham, "proudest and stiffest man" in the diocese, allowing corpses to lie unburied for want of fees; Burroughs of Kingston, "most horribly covetous" ; Ansell of Stowting and Cade of Sellindge, Jacobites and taven-brawlers; Edward Dering of Charing who fought his own sister at the Swan Inn and threw her "head-cloaths" into the fire; Hobbs of Dover, who amassed pluralities; Isles of New Romney a notorious sot and Jacobite; Nicholls of Fordwich who preached that George was a Foreigner, a Lutheran, and a Beggar-"a wicked, swearing. Lying, Drunken man".
John Lewis was Vicar of St. John's in Margate from 1705 to 1746. Archbishop Wake's private notebook (Notitia Dioces Cantuar,) now in Canterbury Cathedral Library describes Lewis as, a conscientious studious hardworking jolly good chap. "vir probus, doctus, diligens; concionator bonus.
When the book first came out it sold for 14 shillings about £100 at today's value now a complete copy of the original edition will cost between £500 and £1,000 putting it beyond the reach of many of the people who may want to read it and making the copies in the various library archives less accessible than some of the lower value books.
Looking over the accounts for the publishing of the 2nd edition in 1736 it doesn't look as though either the publishers or Lewis made any profit. In fact I suspect that Lewis lost money on the whole venture. This is still to be expected today when producing local history books.
I have had two options with the reprinting of the old local history books, one was to go to a professional printer and have a very few titles reprinted the price per book would have been less but only by having about 2000 copies done an investment of several thousand pounds per book. I am sure that the finished book would have been more attractive too. This way I could have only financed 3 of 4 titles. Back in 1736 an investment of the equivalent £6,400 was required to produce 250 copies with Lewis getting 51 copies as his only payment. I should add that he had to provide the paper for 50 of them, this would have cost him about £300 at today's value. The other option using our own printing equipment and the pamphlet format means this is the fourteenth publication so far this year.