1828 Kent's Topographer. A New & Complete History of The Isle Of Thanet from The Earliest Records to The Present Time. Including Every Modern Improvement. Embellished with a Series of Views From Original Drawings. With Historical Topographical Critical & Biographical Delineations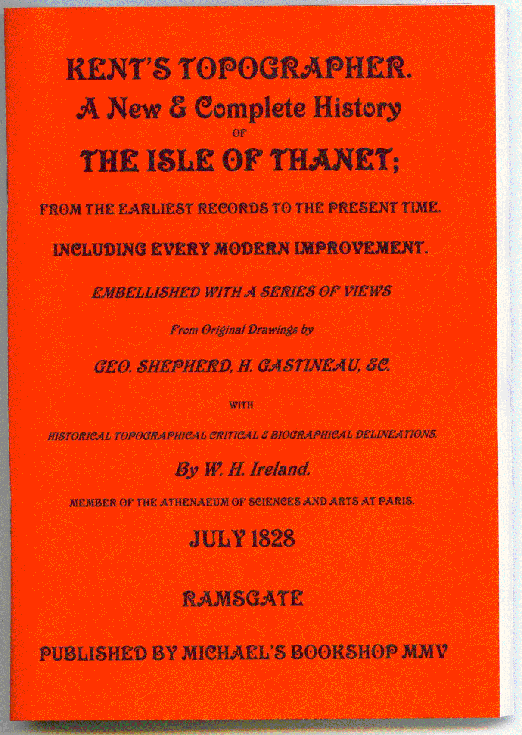 Kent's Topographer. A New & Complete History of The Isle Of Thanet from The Earliest Records to The Present Time. Including Every Modern Improvement. Embellished with a Series of Views From Original Drawings. With Historical Topographical Critical & Biographical Delineations
Ireland, W. H. Shepherd, G (Drawings) & Castineau, H. (Drawings)
132pp stapled A5 booklet with descriptions and illustrations of Thanet in 1828 and before.
ISBN* 9781905477104
£6.99
This is a reprint of the Thanet part of Irelands History of Kent, original copies are now fairly expensive at about £550 making them beyond the reach of many collectors. The book is famous for its marvellous engravings and infamous for its text.
Ireland is most famous for producing fake Shakespeares of his own authorship and trying to sell them for lage amounts of money. Known at the time as Shakespeare Ireland, his history of Kent was slated by the critics when first published. "Irelands history of Kent is a miserable performance, with pretensions to being a county history……….he does not appear to have visited the county……." In those days before libel laws literary criticism was somewhat more robust than it is today.
Of course today it is a most desirable Kentish book and it is my intention to do reprints of the other parts of the county in the fullness of time.