Isle of Thanet Guide 1901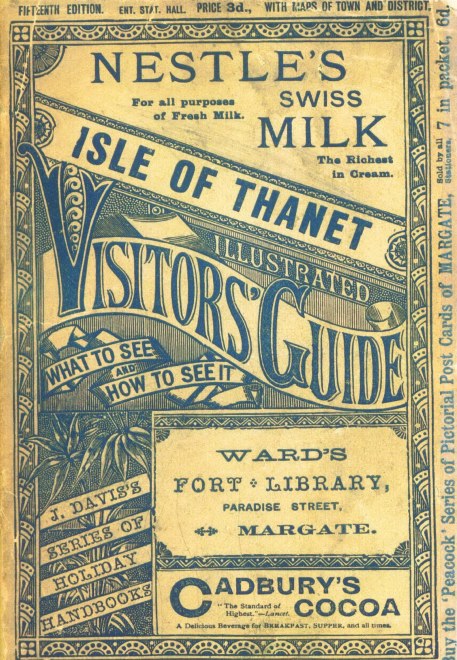 Price: £5.99
ISBN: 9781905477777
INTRODUCTION
I have done my best with this little guide to make it as close to my copy as I can for you all. The only changes I have made has been in the positioning of the maps which were on a folding sheet in the front of the original. The map of the Isle of Thanet I have placed in the middle of the book and the one of Margate now forms page 6 of the book. Because they had advertisements, which I have used elsewhere in the book, round the outside of them I have managed to keep the size of the maps the same.
Although it was technically quite a difficult book to reprint, well to be honest it all went wrong the first time I tried and I had to start over again, I very much enjoyed doing this one because of the pictures. Some of them are woodcuts and others early halftone.
For a book that claims to be in its 15th edition it appears to be remarkably scarce with a very few copies listed as being in libraries.
Much of the book's charm is in the advertisements, which at the time would have probably financed most of the printing costs. They tell us, of course a great deal about our history both national and local.
The original copy I was lucky enough to get from a bookseller who specialises in old Kentish topographical publications.
Next I should add that, if you have written, or are writing anything about this area that you would like me to publish don't hesitate to contact me. If you have any old local publications that may be suitable for a reprint don't hesitate to contact me. If one of your relations or ancestors has written anything about the local area that you may hold the copyright for please contact me.
If you already have a local history book in print I would be happy to stock it in my bookshop. I am in fact always interested in doing anything that I can to make as much about this wonderful area as I can available to everyone.
Michael
Michaels Bookshop
Ramsgate 25th November mmvi