Title 4

'Well, it looks alright to me'
The Founding Fathers
On the ceiling of Holy Trinity Church are a large number of coloured shields, representing everything from major saints and local towns, to noble families and departed Archbishops.
Initially there were fifteen such 'arms', belonging to those who had made up that very first committee. They each paid to have their family shield placed in the church, and presumably it was hoped that getting more people to donate an 'arm' would raise useful cash for the building.
Amongst the fifteen were-
Rev. Evelyn Levett Sutton Vicar of St. Peter's.
Rev. J. T. Salusbury Curate of St. Peter's.
Edward Fletcher Esq. Owner of Pierremont Hall and one of the richest men in the town. It was he who offered a site in the High Street.
Captain Gooch Fort Lodge.
Captain Cotton Convent, Kingsgate.
Captain Isaacke North Foreland Lodge.
George Hannam Esq. Bromstone House
The Rev. Sutton, as Vicar of St. Peter's, was effectively the first Vicar of Holy Trinity, for, as Bradstow Chapel, it was a 'daughter church' within the original parish.
He was the nephew of the Archbishop of Canterbury, Dr. Manners Sutton, who managed to appoint no less than seventeen members of his family to well-paid livings in the church.
Evelyn Sutton was made a canon of Westminster in 1832 - whilst remaining Vicar of St. Peter's. As he spent most of his time in London, he left his curate, Mr. Salusbury, to run the parish. However, this man of the cloth "…attended but little to the wants of the parishioners, being extremely fond of hunting!" (Hills). Sutton died in 1835, being "suddenly attacked with apoplexy whilst reading the 9th. commandment [Thou shalt not bear false witness against thy neighbour], in the cloisters of Westminster Abbey". (Hills)
TITHE MAP OF 1838
Fort Lodge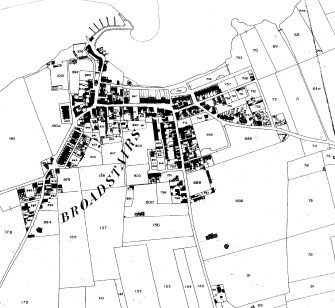 Bradstow
Chapel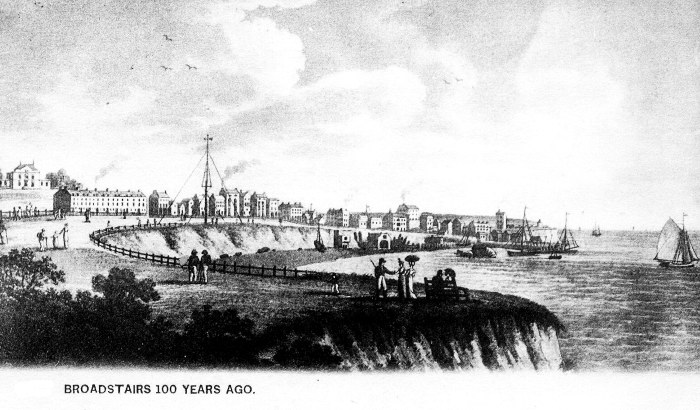 People who are shown Holy Trinity Church today, and are told that Dickens called it 'a hideous temple of flint, like a great petrified haystack', can be forgiven if their reaction is to say, 'Well, it looks alright to me!' Sadly historic walk leaders and tourist guides often fail to mention that, since Dickens made that statement, the church has been considerably rebuilt.
Mention has been made in this booklet of changes to the interior of Holy Trinity, and of the addition of the tower. More radical changes were to be made in 1914 and 1925, when the tower proved so flimsy as to need demolishing, and the church so small as to need almost rebuilding. [See 'The Small, Happy Family of Broadstairs' - published by Michaels Bookshop].
Local history, dull though it may seem, sometimes challenges us when we are tempted to say, 'Well, it looks alright to me.'
As well as begging the question 'Have we understood why something was said or done?' - as illustrated above - it can also make us ask whether to be 'alright' is actually good enough.
The local history of Broadstairs seems to be littered with occasions when things were done, buildings erected, changes made, that 'looked alright' at the time, but which have subsequently proved to have been detrimental to the town, the people involved, or those who came along later.
We can imagine a 'prominent citizen' responding to the suggestion that there 'really ought to be a proper Established church in the town' by saying 'Yes, well, that seems alright to me,' - when perhaps a 'Why don't we wait until the town gets bigger and the Church of England is behind us…?' might have been more useful.
When a plot of land was offered that was big enough, but later found
to be in totally the wrong place, we can hear the wealthy local residents saying, 'Well, it seemed alright to us'.