1882 A Gossiping Guide

Postage to a UK address is free
Margate and Ramsgate all about and round about them. A gossiping guide to some pleasant places in the Isle of Thanet.
By CHAS. H. ROSS.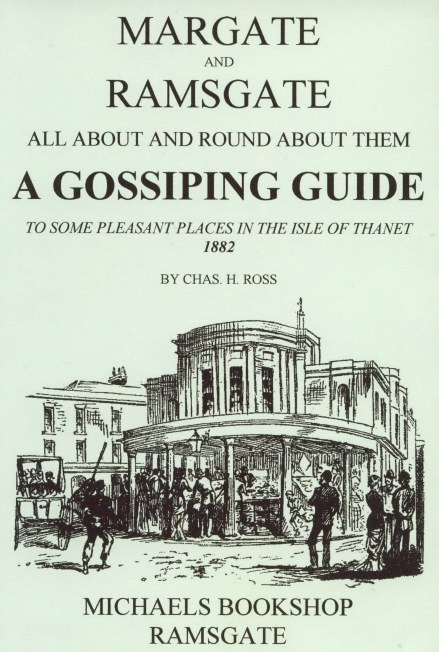 £5.99
I.S.B.N. 9781905477296
First published in 1882
110 + Printed Pages A5 format - soft cover.
Illustrations by Judy's Artist.
This is an unusual guidebook to The Isle of Thanet, it comes from the Victorian satirical publishing house that produced Judy magazine. Judy was an offshoot, possibly a rival to the better-known Punch magazine that started in the 1840s.
Articles include "Where's Margate?", Mrs Philpot's, What Mrs Ramsbottom had to say about Margate, The Tuggses at Ramsgate, Bathing Machines, The Men who stare, The High Tide of 1870 at Ramsgate, The Margate Hoy, Tom Ingoldsby at Margate, Drapers' Almshouses (Michael Yoakley), The Ghosts in Cecil Square, The Theatres Royal, The Hall by the Sea, The Margate Regatta, Sergeant Shelbee, The East Cliff, Herne Bay, Pegwell Bay, Dickens at Broadstairs, The Sands that swallow ships (Goodwin). Short mentions for - Monkton, Minster, Birchington, Quex, Salmstone Grange, Westgate on Sea, North Foreland Lighthouse, The Hussar Gardens, Stonar, St. Nicholas – poems and songs and lots, lots more.
Pictures include: - The Jetty Extension, Bar of the Grand Hotel, Marine Parade, Ramsgate Sands, Mrs Fox, Old Jennie, Ramsgate Lighthouse, Michael Yoakley's Hospital Margate, Assembly Rooms Margate, Town Hall Ramsgate, Prospect Terrace, Mrs Pitcher the Donkey Woman, Hodges Staff, The Fort Margate, Pier Yard Ramsgate, Herne Bay, Salmstone Grange and more