Title 7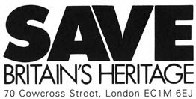 Mr Doug Brown
Development Control Manager
Thanet District Council
PO Box 9
Cecil Street
Margate
Kent CT9 1XZ
Doug.Brown@thanet.gov.uk
8 February 2010
Dear Mr Brown,
Ref: F/TH/09/0915 - 2 Adelaide Gardens land adjacent 32 Adelaide Gardens, Ramsgate. Erection of 7 no. 3-storey dwellings, following demolition of existing building.
SAVE Britain's Heritage has been campaigning for the preservation of historic buildings and the historic environment since its formation in 1975. We write to express our concerns over this application.
This site is one of the most sensitive in Ramsgate. It lies within the Ramsgate Conservation Area and there are a number of Grade II listed, late Georgian buildings and terraces along the lengths of Liverpool Lawn and Adelaide Gardens, to either side of the site. In this context it is important to remember Planning Policy and Guidance Note 15 (PPG15) para 2.16 which communicates the desirability of preserving the setting of listed buildings. As well as affecting the general aspect of this conservation area, the proposed development site is immediately adjacent to nos 30 & 35, Liverpool Lawn, also built c.1830 and Grade II listed, with delicately proportioned bow windows.
The existing single storey building on the site was built on gardens that previously belonged to three terraced houses at the south end of the Adelaide Gardens terrace. These buildings were lost as a result of bomb damage during World War II. It is our opinion that any new development should, ideally, seek to reinstate the lost houses and gardens.
Section 4 of PPG15 stipulates that new development in conservation areas should seek to preserve or enhance. This proposed development will completely enclose the south end of Adelaide gardens and alter the historic line of the terrace. This would represent a dramatic change in the historic streetscape and also impede views out to sea from Adelaide Gardens.
Whilst we accept that Adelaide Gardens has already been degraded by the loss of the front gardens to parking and other uses, the proposed development would represent a further loss of character that would fail to preserve the character and historic appearance of the area. We accept that there is a case for new development on this site, and that this development could extend beyond the footprint of the bombed houses. However we feel that the current scheme is too large in terms of footprint, bulk and scale.
We urge you, therefore, to refuse this application.
Yours sincerely,
Catherine Townsend
Assistant Secretary