Title 1

`Alpha' and Better

By Mikal Cole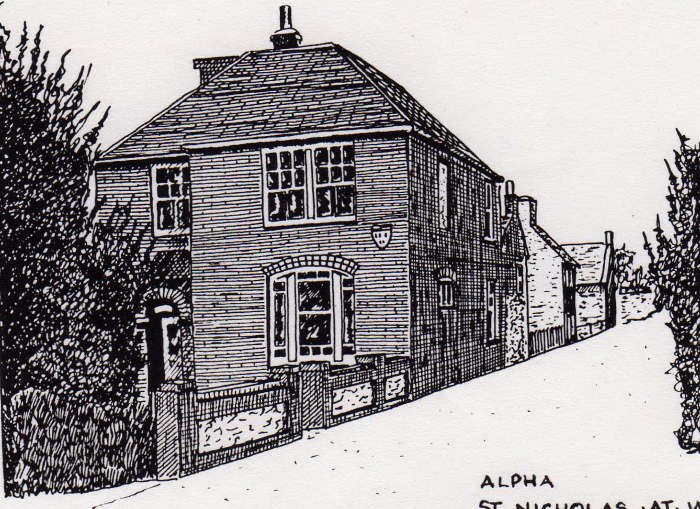 Personal memories, over the past fifty years, house by house through the village of
St Nicholas at Wade
© Mikal Cole 2007

Contents

Title page Page 1
Acknowledgements 2
Contents 3
Chapter One BSNAW Before St Nicholas at Wade 4 - 8
Chapter Two `Alpha', The Length and Bedford Way 9 - 20
Chapter Three Manor Road, Manor Lea Road and
Sandalwood Drive 21 - 33
Chapter Four Canterbury Road 34 - 37
Chapter Five The Street, The Oaks, Wantsum Court
and Sun Lane 38 - 51
Chapter Six St Nicholas at Wade Primary Schools 52 - 64
Chapter Seven Downbarton Road, Bridges Close, The Finches
and Summer Road 65 - 84
Chapter Eight Court Road and Belle Isle 85 - 91
Chapter Nine Shuart Lane, Potten Street, Chambers Wall
and Warehorn and the A28 from St Nicholas
roundabout to Brooksend 92 - 106
Chapter Ten Achievements, Regrets, Hopes and Dreams 107 - 122
Chapter One

BSNAW - Before St Nicholas at Wade
I was born on Saturday 24 August 1946, at about 10.30am, in The Canterbury (now Kent and Canterbury) Hospital and being a person who only complains when things are really bad was named `The Purple Terror' by the staff on the maternity wing, basically because I did not like being kept waiting for my food, (some things never change, do they?J). Saturday's child has far to go!
My parents William James Cole (born 26 April 1917) and Lilian Elsie (born 6 September 1916 (nee Pettman) were first cousins and got married in Napier Hall, Gillingham on 27 December 1939. Actually my mother was born on 7th but as Grand father left the house he turned to Granny and said `She was born on the 7th wasn't she?' `No! the sixth.' Came the reply.
When he returned with the Birth Certificate it had the wrong date on it and Granny told him off for being a `great fathead' but they didn't bother altering it and all her life my mother has had something in common with the Sovereign of this Country in that they both have `an official birthday' and an ordinary one.
My father was a qualified carpenter and joiner, whilst my mother a State Registered Nurse (she actually wheeled the first patient into the then newly opened Kent and Canterbury Hospital). Everything went well for the couple and they both survived WWII unscathed, Mother having had my two elder brothers, (Peter b.13 October 1941 and Christopher b. 4 August 1944) before Hitler was finally defeated.
After falling pregnant with Chris, doctors diagnosed my mother with pneumonia, then pleurisy and finally the dreaded TB. After Chris was born she was moved to Lenham Chest Hospital where she ended up staying for almost a year. Actually she decided to leave one day when she looked at the nurse attending her and saw her dirty finger nails and decided that she could look after herself at home just as adequately and told her mother or mother in law and things were put in motion and she came back to Thanet
This situation presented my father with a dilemma, what to do with three young boys, a wife away long-term and still earn a living? Well the doctors dealt with the problem with Pete, they whisked him away to a sanatorium to also be treated for suspected TB. It was decided that Chris should go and stay with paternal grandparents at `Wilbernam', opposite the School in Monkton, whilst I go and stay with maternal grand parents in `the Moorings', Minster.
With these grandparents, lived Auntie Elsie, my grandmother's sister who was crippled by polio at the age of 16 or so and who lived with her sister and brother-in-law all her life. Also living with them was `Auntie' Evie, Miss Evelyn Matthews from Ramsgate who was their housekeeper and a trusted family member.
Auntie Elsie somehow visited Hill House Hospital just up the road and became friendly with one of the `residents', a Miss Hetty Alston who was in there suffering from multiple sclerosis and had the unhappy situation of being in the bed next to that of her mother, who was suffering the same affliction.
I don't know if it would be permitted these days but Hetty was there when her mother died! How unpleasant but she survived for a good many years after and was eventually moved to a St Mary's Hospital on the Isle of Wight where she too also died from that terrible disease.
Over the road and down a bit was a bungalow where I believe another person suffered from polio and he will be known to many villagers for his wonderful carpentry and that is Colin Handcock.
My father employed Colin as an apprentice and Dad often commented on the wonderful standard of Colin's craftsmanship in fact there is an oak table he made, in St Nicholas Church and long may it last!
I was happy as a toddler, toddling with my grandparents and must have made quite an impression on them as they mused with the idea of adopting me.
When I learnt of their idea, in later life (ie in my teens) it appealed to me, because I like the quirky side of things. I would then have called my grandparents Mum and Dad and my mother and her two sisters would become my step sisters and my father would be my step brother in law whilst my brothers would have to call me uncle!
Now you wonder why I am the way I am today! Anyway it didn't happen so we won't go on about it any more.
Whilst I toddled with my grandfather he built `The Paddock' in Manor Road, almost single-handedly, except for help from his sort of constant companion and great Christian friend and labourer Albert Foad of `Minnie Cottage', The Length and me as a four-year old was of great assistance in everything he did.
Two things of note about this period, firstly I remember crying my eyes out at `The Moorings', when a car went down the road talking! I didn't understand what it was saying, but it was the first time I had seen such a thing and I knew I didn't like it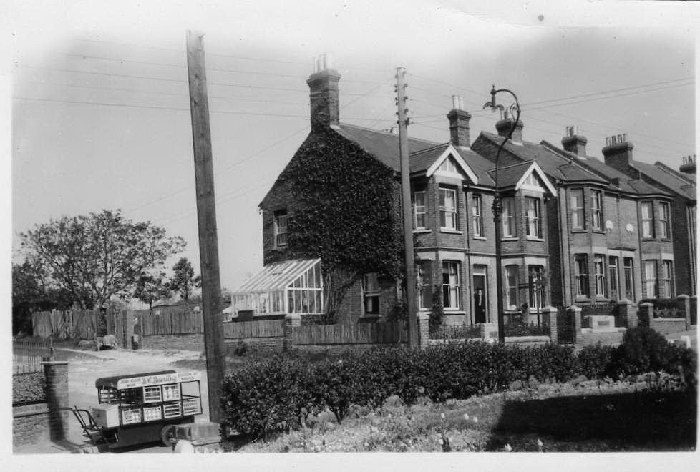 `The Moorings' (now number 102 Tothill Street, Minster) with Granny in her obligatory hat at the front door and the greenhouse-like building on the side to house Aunty Elsie's invalid wheelchair (See `The Paddock' Manor Road for a similar one). Note the old milk float in the foreground.
Some years later I found out that it was probably the local MP canvassing for votes in the 1948 General Election, so I was about two at the time. What is your earliest memory? Salvador Dali, a hero of mine, said he could remember being in his mother's womb and it was like two fried eggs in a frying pan without the frying pan! But I digress.
Incidentally, although 102 Tothill Street was known to me all my life as `The Moorings' the name was never officially changed and no name plate to that effect ever erected as my father told his in-laws, `It has always been called `Hallikeld' and that is how it should stay' and if they put up a new name-plate he would take it down! `Hallikeld Wapentake' is a place in The North Riding of Yorkshire, presumably taking its name from The Vikings!
Secondly again I cried when a lorry driven by Alf Offen, who lived next door to where Margaret (who is now my wife) grew up at Number 5 `Thanet View', got stuck in the mud on site and got wheel-spin at `The Paddock', I didn't like that either!
One thing I do remember liking was the steaming mugs of cocoa brought to us every morning by Ena Drake who lived at `Detteken' a bungalow, which adjoined `The Paddock'. I particularly remember drinking it at the bottom of the cesspool the three of us were digging at the time.
Again incidentally, how do you refer to maternal and paternal grandparents when talking to your children? Nanny, Grandma, Papa, or Gramps? My family had a quite unique way invented by my mother whilst talking to my eldest brother, Pete, when he was very young. She said `Oh you know Granny who has got the dog called Monty'. And this became shortened to Granny and Grandpa Monty whilst her parents became Granny and Grandpa Lass, after their dog.
It wasn't until in my early teens when a friend of mine commented on the peculiar names our family had for the senior members, that it occurred to me that this was strange as the names were in place from before I was born and it seemed perfectly natural to me.
About 1950 I told everyone I wanted to go and live with my brothers and so we all lived together in `Rosslyn', Monkton also opposite the school and life went on, with me starting at Monkton Primary School under the Headship of the formidable dragon Miss Foreman and her side-kick Miss Wacher. I don't think I particularly enjoyed school at the time but I went anyway and as Rosslyn' lay opposite the school I had no option but to go.
We had good times at Monkton, like those long, always hot, summers when we emptied the contents of Granny's summer-house and made tents on the lawn, and going into the cool of Granny's kitchen where Aunty Joyce would carefully measure out equal shares of ice cream which always melted before you could finish the messy art of eating them. Or when Auntie Joyce carefully cut up a Mar's bar into VERY equal pieces and solemnly delivering a piece to each of us in turn with the admonishment NOT to eat it too quickly, Yeah! To a primary school aged boy? Some hope!
Good times like between September and March when Mr Brown of Brown and Mason Demolition at Margate used to over-winter his summer beach donkeys in grandfather's meadow and we boys used to chase them for hours across the grassland, sometimes even managing to saddle them up and get a ride.
The leader of the `pack' was a wily old moke called Winston but he hurt my brother Pete who was on Winston's back against Winston's wishes so Winston walked as close as he could to the substantial gate post into the field, I think after that we gave Winston a bit of a wide berth!
Whilst we were at Monkton School we had to keep diaries of what we did when out of school and my other brother, Chris, made the brilliant observation that `we went to the field and rode the bonkeys'! A much nicer picture comes to mind, don't you agree?
Good times like the Sunday morning I was too poorly to go to church so Dad took me on a walk down The Drove and he had his .22 Winchester rifle with him and shot an eel basking in the dyke and the dead eel flying way up in the air, only to land on the path in front of us.
Bad times like when I realised my elderly grandfather could still run when he chased, caught and smacked me for trying out the principles of the Bible story of David with his sling, and no I wasn't any good with it!
Bad times like Granny saying no I couldn't use her wheelbarrow to get some sawdust for Mum! Turned out later that all Mum wanted was enough to fill her newly sewn pin-cushion.
Fun times like Dad having to cut through the floor of the shed so that we could get Patch the mongrel and her puppies out.
Bad times like me thinking I had ducked low enough to cycle under the rope of our swing only to find out I hadn't and how painful a rope burn to the neck can be and how painful it is to fall off your bike!
Anyway we all had great expectations when we were informed of our move to St Nicholas. This was mainly for reasons of our mother's health. The marsh air of Monkton was not helping with her chest complaint so the higher and drier air of St Nicholas, it was hoped, would help.
And now over a year past her ninetieth birthday and all her fellow patients at Lenham from the 1940's gone to be with their maker, Mum is still in excellent health……………..well excellent for the average ninety year oldJ!
Chapter Two

`Alpha', The Length, and Bedford Way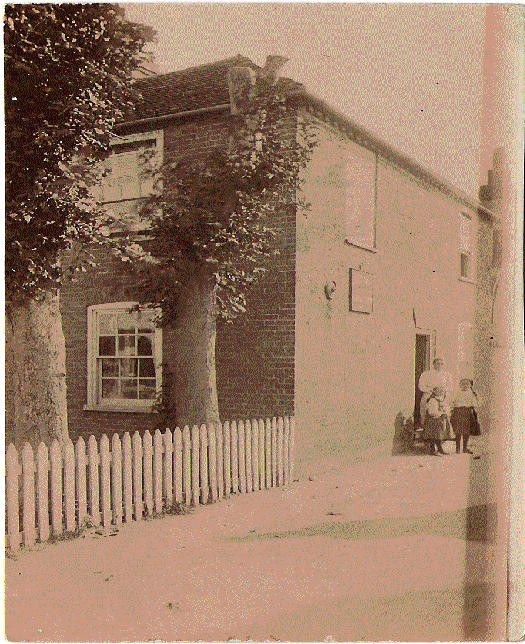 `Alpha' with great-grandmother and the infamous everybody's `Auntie Kit' and one of her sisters .
Take this book/photo with you and go and look to see if you can spot the changes my great-grandfather made to this house, it is up to you to decide whether you consider them to be improvements or not!
As I said, we moved to Alpha in 1954 from Monkton. My first memory is of sitting on the floor under the long window, which had then recently been put in by my father, looking over The Length towards `Rose Cottage'. There was no furniture and we boys were stripping the old wallpaper but I remember a lunch of homemade pea and ham soup with `chunkers' of fresh bread like you could only get in those days. It was probably from Mr Rodaway who ran The Bakery in The Street, opposite `Tythe Bungalow'.
`Alpha' was originally two cottages facing on to The Length, signs of the two front doorways are still evident as is the 4'0" extension added, facing down the road towards the church, by my great-grandfather, who lived there with my great-grandmother, when both my parents were young children, to accommodate the sofas being placed along that wall for family gatherings. It amazes me that whilst going to the fuss and expense of digging footings etc he did not put on a decent sized extension. He bought the two current windows, fully glazed with ¼ inch plate glass for 5/- or 25 pence, for the pair!
The original roof was only about a metre high but my father decided to raise it to make a habitable room and add an extra floor to the property. At the time he was the Councillor for St Nicholas on Eastry Rural District Council and was closely involved with the Planning and Building Control sections there. He was visited on one occasion by the Planning Officer, who may have been a Mr Dick Ruston. As they walked up the road towards Alpha, the council officer asked `Has the roof to your house always been like that Will?' `Yes', replied my father all innocent-like and that was the last mention of the matter.
`Alpha' was on the market for OIRO £300,000 in Jun 2007.
One point worthy of note is that about this time, possibly a review by the Boundaries Commission or its equivalent at the time, it was my father who pointed out that there were 9 places in the United Kingdom called St Nicholas but only one with its own `Wade' and so it has been ever since so you can thank him for getting the full name of our parish to be St Nicholas at Wade.
My father built The (new) Vicarage in 1964, (he said if he was going to have to look at it every day, from his window, then he was going to build it!) with Colonel Arthur Tapp, then Chairman of The Parish council and also a member of the church PCC, cutting the first sod, my father had already built `Windyridge' next door in 1960 for Steve and Maureen Knight, she being the younger daughter of Postmistress Win and her husband Aubrey Smith.