CHILDRENS CONVALESCENT HOMES OF BROADSTAIRS

Once again I have made no attempt to show the pages as they appear in the book but have just published some of the raw material.
THE TAIT HOMES FOR GIRLS, LANTHORNE ROAD
The first of the Victorian convalescent homes built in Broadstairs was the Tait Home in Lanthorne Road. Archibald Tait, 1811 - 1882, was ordained at Oxford in 1836. His mother had died when he was three years old. He became Headmaster of Rugby School in 1842 & married Catherine, daughter of Dr Spooner, Archdeacon of Coventry one year later. Catherine had a great capacity for business, including accounts, & entered keenly into the problems of both Archibald & her fathers work, sometimes tempering Archibald's judgements, whilst her deep piety, simple tastes, love of literature & care of the poor, which continued throughout her life. Between 1845 & 1856 the Taits were to have seven children, & were to see five of them die owing to scarlet fever over a six week period in 1856.
Archibald Tait was made Bishop of London shortly afterwards in 1856, & he declined the Archbishop of York in 1862. During his post in London Archibald & Catherine set up many local charities, particularly involving themselves with the poorer classes of the East End. In 1866, East London suffered a great cholera outbreak, leaving many orphans behind. A small house was obtained in Fulham, & Catherine looked after thirty six children on the premises. Archibald by this time was suffering from seizures, & purchased Stone House in Broadstairs in 1868 to escape the traumas of London. He was invited to take the post of Archbishop of Canterbury by Benjamin Disraeli in 1869, which he accepted. This enabled him to continue his work with his London charities, but now working from Lambeth Palace. Archbishop Tait was also a great friend of Sir Moses Montefiore, the Jewish philanthropist who lived in Ramsgate. The Archbishop held a key to the grounds of the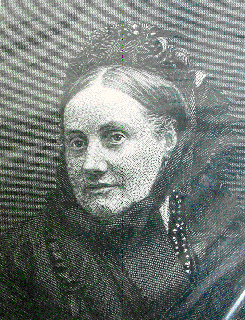 CATHERINE TAIT
Montefiore Estate for his family to use as they wanted.
The orphanage in Fulham soon became overcrowded, & Catherine looked for a healthier site on the coast, & chose the spot behind her husband's residence in Lanthorne Road. The Archbishop donated six acres of Stone House land, leaving Catherine to raise the £6,000 to build the orphanage which she did. The foundation stone was laid by Catherine herself on 21st December 1868, with her remaining children, Lucy, Edith, Agnes & Crawford, all being present. Amongst the guests at the stone laying ceremony was Sir Moses Montefiore, the Jewish philanthropist, who distributed money to local children who were present, Ill health kept Archbishop Tait away.